Features/Application
● Fast exposure premium dualcure type emulsion
● Excellent durability, superior solvent resistance Mix it well
● Easy to reclaim, extended re-use of screen
● Superior resolution, sharp image definition for finest image reproduction
● Suitable for fine line graphic image, PCB patterns, nameplate and ceramic tiles
● Suitable for solvent based inks and UV inks
SP-1400
Features/Application
● Universal type water resistant emulsion
● Textiles, banners, T-shirts, towels and water based inks
● Recommended for water borne paste used for electonic devices
● Faster exposure than normal diazo type emulsion. Wider exposure latitude
● Easy to reclaim, extended re-use of screen mesh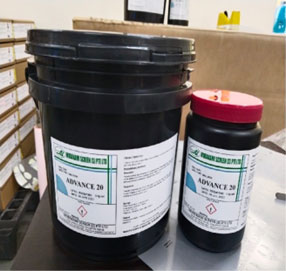 NJ Inkjet Micropurpose Film from Technova
Workflow
Product Description & Application

NovaJet Inkjet Clear Film High Density (ICF-HD) is a high density polyester-based film for computer-to-film digital imaging using recommended inkjet printers. It is ideal for four-colour screen or commercial positives in any size, with unbeatable value-for-money. NovaJet Inkjet Clear Film High Density is designed to produce high-resolution, instant-drying, four colour screen/offset ready positives upto A0 size. It can also be used to produce negatives; however, the ink consumption is significantly higher than, that for making positives. When imaged on high resolution pigment-based inkjet printers (e.g. Epson Stylus Pro 4450, 7900, 9900 series), the ink receiving layer ensures excellent reproduction with micro-fine lines and denser solids.

NovaJet Inkjet Clear Film High Density offers the lowest cost computer-to-film solution. This is ideally suited for commercial, textile, graphic & ceramic design print applications.
CS-5 WR: Bichromate based Emulsion
Shebro - India
For Water based & Plastisol inks
Description
: Direct emulsion with diazo sensitizer for water base, plastisol and some solvent ink for fine line/resolution. Shoots fast with high resolution, extremely durable, yet easily reclaimable. Suitable for Textile and Ceramics.
Pre Sensitized Shelf Life :
1 Year
Colour :
Green/Blue/Red/Violet
Packing :
900gms/4.5kgs/25kgs
Solid Content :
38%
Std Packing :
25 units (for 900gms)
Std Packing :
4 units (for 4.5kgs)
Std Packing :
1 units (for 25kgs)